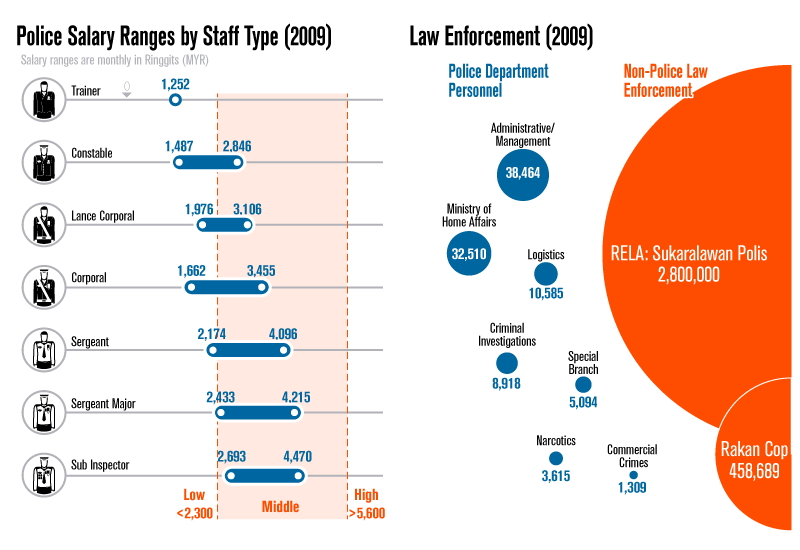 Policing Groups | Pay
The average monthly outgoings for a family is RM 2,190. The pay levels are out of date as the audit team was unable to update the figures from the police department. The purpose of including this slide is to locate the pay of junior officers especially in the general economic climate and monthly average 'shopping basket' for an average family. As noted in slide 4, incidents of 'petty' corruption among police officers in particular are down with only 9% of those surveyed having paid a bribe to police in the previous 12 months (the same as in Singapore).

Human Resources

Independent figures obtained for police staffing numbers suggests in 2011 the ratio of police to public is 1:270 (i.e. about one officer for every 270 persons). However this figure is unlikely to reflect the actual number of police officers patrolling the streets at any one time since the audit was unable to ascertain from the police department how the shift system functioned nor the average number absent on sick leave or ordinary leave.

Training: the Royal Malaysian Police ("RMP") aimed to train 60,000 officers between 2007-2011. Training courses required police officers at the rank of Inspector and Sergeant to attend 12 months training course (6 months at the Police Training Centre (PULAPOL), 5 months practical, 1 month assessment); and a Constable to attend 7 months basic training including 3 months practical training at contingent station level and 1 month's assessment at PULAPOL. This basic course includes: the study of law, science, policing, parades, weapons, physical exercise, including martial arts and is followed by 9 months practical training in the district police HQ. The Constable then undergoes a Probationary period of 3 years.

Regular police officers are supplemented by RELA volunteers. The Ikatan Relawan Rakyat - RELA - (translated as Peoples' Volunteer corps) is a uniformed, cadre of community police officers which has increased from over 500,000 members in 2008 to a reported membership of 2.8 million members in 2012 (i.e. about 1:10). RELA volunteers under the Essential (Ikatan Relawan Rakyat) (Amendment) Regulations 2005 have policing powers (to stop a person and require production of identify documents; to enter premises without a search warrant) and immunity from prosecution where the volunteer 'acted in good faith'. They are directed in the main at checking on the immigration status of foreign nationals. As a paramilitary unit they are also used to maintain public order. The audit was unable to clarify the training received by RELA members nor what accountability mechanisms operate. The legislation governing the RELA is under review and the aim is to 'clean up' the image of RELA and professionalise the cadre.

Police are further supported by Rakan Cop (translated as 'Friends of Cops'). This unit was established by the RMP in 2005 to assist police officers and act as their "eyes and ears" and report criminal activity, suspicious behavior). Another, Skim Rondaan Sukarela (SRS) comprises local male residents who take shifts to patrol the streets at night. The audit was unable to explore command/control structures within these units.