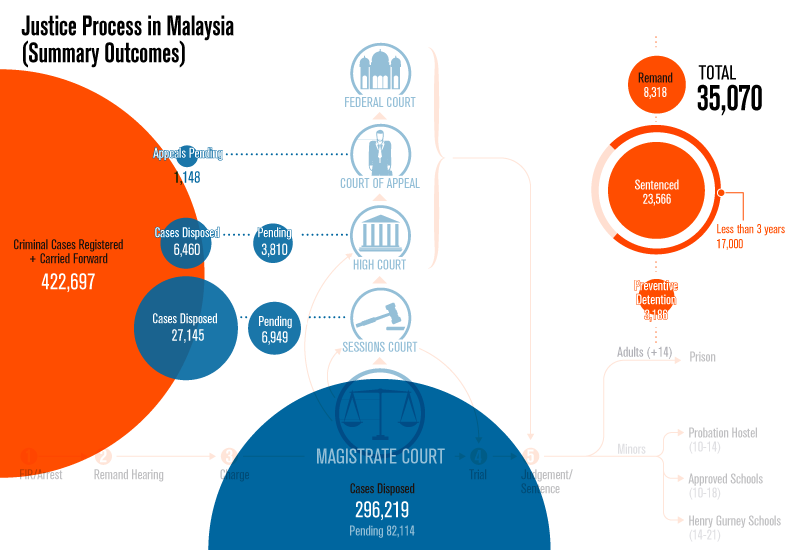 Summary Outcomes
The figures in slide (2) show how the caseload is filtered from entry at the court system.1 The bulk of the criminal caseload is disposed of in the Magistrates Courts.

In 2008, the courts were 'flooded'2 with a backlog of 422,645 cases.3 Prisons reported cases on remand took 'years' before the matter was tried.4

In 2009, the case backlog and delay production programme was initiated. Over a period of two years, a new way of managing both civil and criminal cases was introduced by the then Chief Justice Tun Zaki Azmi which eventually succeeded in gaining the support of the Bar. The programme is seen to be a success by the World Bank5 and practitioners at home.

Cases, in the main, are listed and heard within regular and dependable time-frames; and the backlog has been drastically cut with many courts on track to be current (ie with 2011/2012 caseloads). As of November 2011, the case backlog pre-2010 stood at 128 in the High Court, 500 in the Sessions Court and 300 in the Magistrates Court.6 As of December 2011, the cases pending in the courts (for the period 2010/11) were as follows: 3,810 (HC), 6,949 (SC) and 82,114 (MC).

Most cases in the subordinate courts are disposed of by way of guilty pleas or withdrawn or discharged not amounting to acquittal (DNAA) with very few trials of the issue. In Kelantan, 80% of cases in the Sessions Court were disposed of by way of guilty pleas as against only 19% in Terengganu (where 32% of cases were withdrawn). In Kedah, magistrates disposed of 68% of their caseload by way of guilty pleas (as against only 7% recorded in Sarawak) – see Desk Research in Source documents and slides 15-17 for state by state breakdowns for each court.

The situation is reversed in the High Court where there are very few pleas entered and most cases go to trial.
The impetus for improved efficiency is widely evidenced in the criminal justice system: police, courts, DPPs all work to performance indicators. Court staff and DPPs clock in and out of work in the subordinate courts each day. Police maintain their arrest counts and target crime 'hotspots'. Prisons keep prisoners safe and secure. The courts ensure the cases keep moving and rarely permit adjournments. Judges of the Appeal Courts visit Sessions Courts to monitor performance and discuss problems with Session Court judges and magistrates.
---
1 Note: The figures in the Magistrates Courts do not include traffic matters or other administrative matters as these figures distort the criminal caseload. They include: index crimes (crimes which are consistently reported and pervasive in most geographical areas), general crime, commercial crime, and DDA offences.
2 Former Chief Justice, Tun Zaki, interview 8 February 2012. The World Bank cites a 'carry-over' of 422,645 cases from 2008 to 2009 (Source: Court Backlog and Delay Reduction Program, A Progress Report, August 2011, World Bank paragraph 14).
3 World Bank, Case Backlog Progress report 2011 at p. iv
4 Interviews with prison officers in Penang, Sabah and Prison Headquarters, February 2012.
5 World Bank, Case Backlog Progress report 2011 at p. iv
6 Federal Court Ageing List, Nov 2011